Updated: April 14th 2016
With so many brands, formulations and delivery systems available it would seem an easy task to be able to select the best product for the job; but while the end result is to quickly reduce bacterial counts (kill microorganisms) on the hands, there are some standout items Dave recommends:
Purell Brand Instant Hand Sanitizer – the leader in this category – is now available in the ADVANCED formulation, mild and soothing to the skin and enhanced bacteria killing power. Many sizes and delivery options are available from us – see the online catalog – but why not utilize the new ES - Everywhere System. Yes, put them up in many locations, near the bathroom door, as you enter or leave a room, near individual work stations, the more it is available the better the effectiveness.
Use coupon code dispenser to receive $5 off $50+ on the following products.
Purell ES System Starter Kit: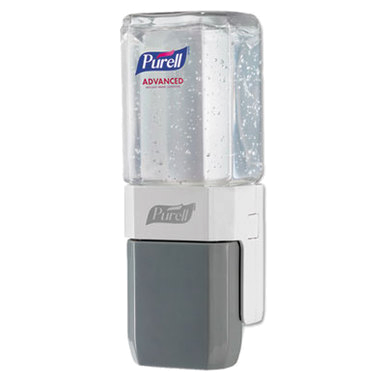 Purell ES System for 450ML refills, white/gray
| Product | Description | SKU | Price |
| --- | --- | --- | --- |
| | Buy the Purell ES System as a starter kit and receive 8 dispensers and 8 refills. | GOJ 1450-D8CT | $183.30 |
Description

Small footprint and multiple mounting options fit spaces where bottles and dispensers aren't ideal.

Ready-to-install kit with preassembled base and refill cartridge securely attaches to surfaces with Command strips from 3M.

The refill is exposed for at-a-glance monitoring of product level and easy servicing.Refills hold almost twice as much product as a standard 8 fl. oz. PURELL pump bottle.

Bases are constructed of robust engineering grade plastic backed by the GOJO Lifetime Guarantee.
Package includes 8 dispensers and 8 refills.


Purell ES System Refills
Refills come in two choices:
| Product | Description | SKU | Price |
| --- | --- | --- | --- |
| | 6 individual 450ml refills | GOJ 1450-06 | $95.55 |
Or, if the Same Great formulation is desired in foam dispensing then buy this:
NEW ADX-12 High Capacity FOAM in push button format
High capacity 1,200 mL PURELL dispenser is ideal for high traffic areas. Large sight window, skylight and crystal clear refill bottles make it easy to check fill status.

Converts to a locking dispenser at any time by simply removing the key from inside the dispenser.

Patent pending Controlled Collapse refill bottles hold their shape as they empty for a more attractive overall appearance. Removable pump makes recycling easy.

SANITARY SEALED refills are made of durable, recyclable PET material, using 30% less plastic than rigid HDPE bottles.
| Product | Description | SKU | Price |
| --- | --- | --- | --- |
| | 1 1200ml dispenser | GOJ 8820 | $6.99 |
| | 1 1200ml dispenser | GOJ 8828 | $6.99 |
Refills
| Product | Description | SKU | Price |
| --- | --- | --- | --- |
| | 3 1200ml refills | GOJ 8805-03 | $75.35 |
NEW LTX-12 High Capacity FOAM TOUCH-FREE with batteries included
High-capacity design is great for high traffic areas.

GOJO Smart Electronics enable reliable, consistent operation with a negligible current draw, which in many cases completely eliminates the need to change batteries for the full lifespan of the unit.

Large window and skylight simplifies product monitoring and refilling tasks.
| Product | Description | SKU | Price |
| --- | --- | --- | --- |
| | 1 1200ml dispenser | GOJ 1920 | $6.00 |
| | 1 1200ml dispenser | GOJ 1928 | $6.00 |
Refills
| Product | Description | SKU | Price |
| --- | --- | --- | --- |
| | 2 1200ml refills | GOJ 1905-02 | $64.99 |